May 6, 2008 at 2:56 PM by Dr. Drang
Last week I got a red Pelican 1060 Micro Case to carry my breakable and water-sensitive stuff in a saddlebag while I bike back and forth to work. For years I've just been wrapping my phone, wallet, USB thumb drive, etc in a plastic bag. This has worked, but when this spring's stiff breezes blew my bike over a few times—fortunately with the saddlebags empty—I began to think my stuff needed better protection. That my old phone had been replaced by an iPhone gave me further incentive.
Pelican cases are pretty common among people in my business; they protect cameras, microscopes, and other delicate equipment from the abuses of the road. So they were my natural choice when I went looking for a case. The 1060 is the largest of the "micro" cases, which have clear tops and no handle. You fill them with Pelican's "pick 'n' pluck" foam, which you can customize to fit the outlines of the equipment you're carrying.
So here's how I fill my case. First, I put in my Fisher Space Pen, digital voice recorder, USB thumb drive, and keys. My Camry uses an electronic "Smart Key," so that thing on the right that looks like a fob actually is the key for my car.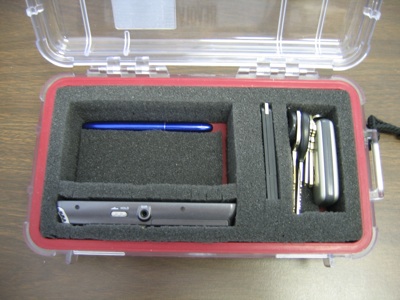 Then I add my iPhone above the Space Pen.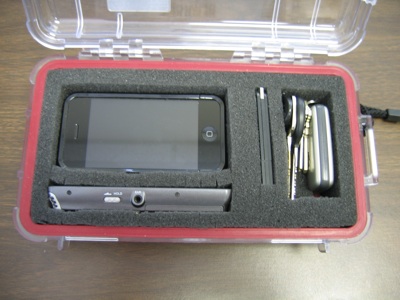 And my watch and earbuds on top of the phone. My earbuds are wrapped up in a short length of inner tube, which keeps them from tangling in my pocket.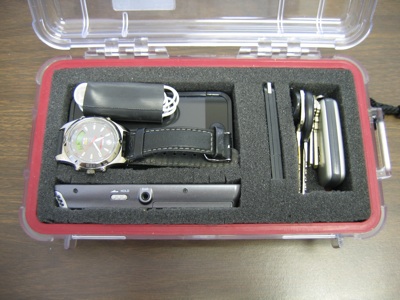 Finally, I add my wallet and Levenger Shirt Pocket Briefcase. The SPB is an upscale replacement for the Hipster PDA; I prefer the SPB because it keeps the index cards a bit cleaner and doesn't have a binder clip that pops off at inopportune times. Despite its name, I carry my SPB in my back pocket.
The wallet and SPB act as top padding and keep everything tight when I close the lid.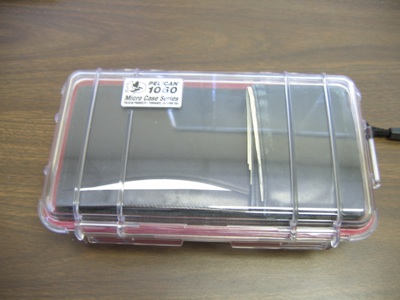 I haven't included links to higher resolution versions of these photos because I took them without a flash to reduce reflections. The exposure times were about 1/5 of a second, so the originals are pretty fuzzy. Fortunately, the reduced sizes here look OK.