June 23, 2010 at 4:00 PM by Dr. Drang
…were premature. OK, there was only one report and it was by me. But the statement stands—Dr. Twoot is alive and may survive the coming OAuthcalypse.
A combination of three things have allowed Dr. Twoot to hang in there:
The vuvuzela effect. Twitter has been seeing so much traffic for the World Cup, it decided to put off the date of Basic Authentication's death from June 30 to mid-to-late August.
That new Twitter SSB I made just isn't as nice to use as Dr. Twoot, nor is it as compact or customizable. Hence, a new effort by me to figure out OAuth.
I finally found a spectacularly clear explanation of how a client program should construct OAuth headers. Jaanus's post, combined with a single access token from Twitter, should allow me to get OAuth working on Dr. Twoot before August.
And if things go wrong? What if OAuth still eludes my grasp? Well, there's HelTweetica, a Twitter client I just found via a tip from Matthew McVickar1. He noticed an aesthetic similarity between HelTweetica and Dr. Twoot and thought I might be interested. He was right.
Here's HelTweetica: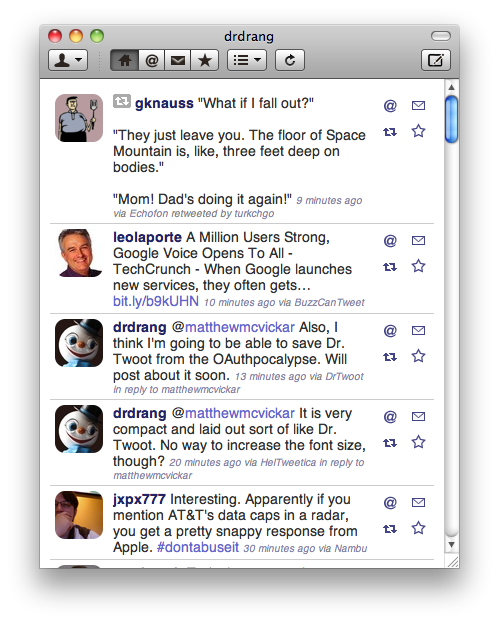 And here's Dr. Twoot at the same window width: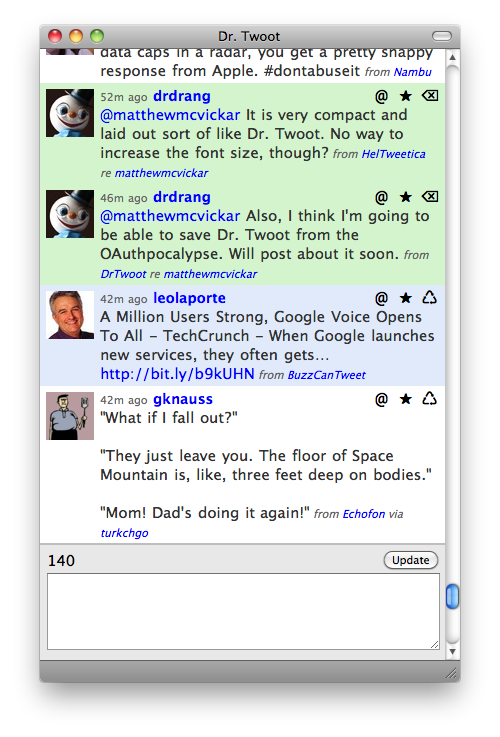 I still prefer Dr. Twoot's layout because
The font is bigger. I can't find a preference or menu choice for font size in HelTweetica.
The buttons along the right side don't fill the entire right margin, using the small space more efficiently.
It's chronological instead of reverse chronological. I know this is counter to the Twitter Way, but it's the way I like it.
Mentions are mixed in with my home timeline. Again, this isn't how the Twitter website works, but it works for me.
It has a button for deleting tweets, something I like to do if I notice a speling error2 right after posting.
Despite these preferences, I'd switch to HelTweetica in a heartbeat if I couldn't use Dr. Twoot.
But I have hope now that it won't come to that.
---
Whom my wife calls "that really good looking guy from Hawaii who follows you on Twitter." ↩

An in joke among people who edit their Apache settings. ↩