November 5, 2010 at 12:06 PM by Dr. Drang
I mentioned PlainText in passing in my last post, so I thought I'd give it a fuller writeup here. Be aware that although I've been using it off and on for several weeks, it's never been my main iPhone note taker; I can't give it the detailed critique I can give apps like Simplenote and Elements. On the other hand, there isn't a lot to PlainText, so maybe a detailed critique isn't possible.
PlainText comes from Hog Bay Software, the people—well, person; the development seems to be done entirely by Jesse Grosjean—responsible for WriteRoom and TaskPaper. In keeping with these other programs, PlainText is a very simple writing app. It differs from the other Hog Bay offerings, though, in that its cloud syncing is done through Dropbox rather than Jesse's homegrown SimpleText syncing system. PlainText is, in fact, something of a testbed app; in the future, all the Hog Bay apps will be moving to Dropbox syncing.
The syncing works quite well, and you get a sense of how smooth and well-thought-out it is when you launch PlainText the first time. You're asked for your Dropbox credentials—which is pretty standard—and then you're asked if you want to sync to an existing Dropbox folder. This is a step up in usability from Elements, which creates an "Elements" folder in your Dropbox folder and forces you to use it. I have PlainText synced to my Dropbox/Elements folder, so all my synced files1 are available in both apps. PlainText gets high marks in the "works well with others" category.
With the account setup out of the way, it's time to move into PlainText proper. I was struck by how sleek and elegant the user interface looks.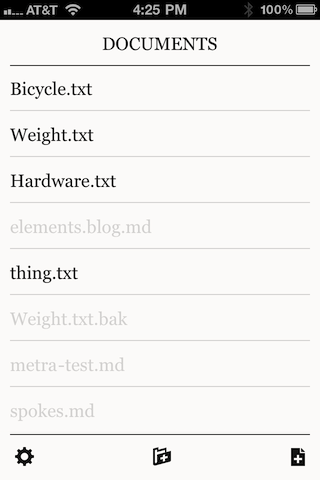 By having the titlebar and toolbar both white, PlainText really gives you the sense of working on a sheet of paper. The choice of Georgia as the font is an aesthetic triumph; it's a great screen font, and when combined with the Retina Display on the iPhone 4 it gives a sense of working with a carefully typeset document.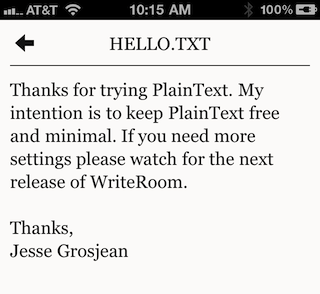 I'm usually not a fan of ALL CAPS, but I like it here in the titlebar because it reminds me of the header in a printed LaTeX document.
There are options to use mixed-case titles and to hide the file extensions. I usually hide the extensions but turned them on for these screenshots to make a point: PlainText uses the extensions to determine which files it's willing to open. Unfortunately, as you can see it doesn't understand the .md extension and refuses to open the Markdown files in my syncing folder. The files it won't open are grayed-out in the file list; if you try to open one anyway, you'll be rebuffed.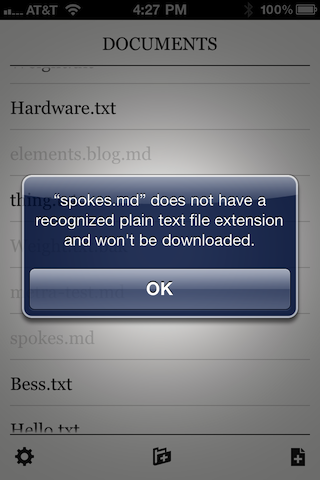 PlainText works with TextExpander, as all iOS editors should, and it understands subfolders. It has no search function, which is a problem if you like to keep your notes in just a few large files and rely on searching to find your place.
The latest version of PlainText, version 1.2, has added a word count, which it does in an unusual way. If you tap and hold somewhere within the text of a file, the usual gray bar with buttons appears. At the end of that bar is a new button, labeled Words with the document's word count in parentheses. If you tap that button, a dialog box appears with the document's word, paragraph, and character counts. More interestingly, if you select a chunk of text, the Words button in the gray bar will tell you the how many words are in that selection. And the dialog that comes up if you tap the Words button will show you the word, paragraph, and character counts for that selection only.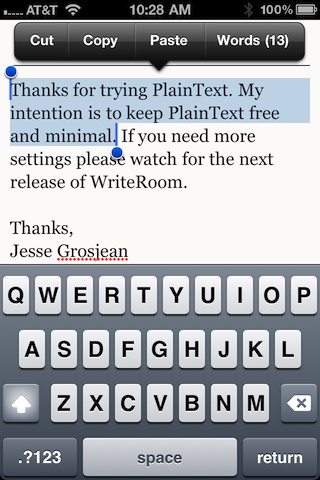 I have to say I don't think much of the tap-and-hold way of getting the word count for the entire document—it just seems easier to tap an info button—but the selection word count is very clever.
That's about it. PlainText deliberately doesn't have a lot of features. It's a free app that's ad-supported. The ads appear at the bottom of the screen and are pretty distracting because they mess up the app's clean aesthetic.2 An in-app purchase will make the ads go away, and in honor of NaNoWriMo, the cost is only 99¢ for the month of November. Such a deal!
Although I like PlainText, I don't expect it to become my usual note-taker. To my eye, the Georgia font is best suited to narrative text—text organized in paragraphs. Most of my notes are lists and tables, and they look funny in Georgia. I don't regret paying the upgrade fee, though, because I want to support Jesse in his migration to Dropbox. I'm a TaskPaper user and want to see it using Dropbox as soon as possible.