December 18, 2010 at 11:05 AM by Dr. Drang
Here's a hint from Allan Odgaard I missed when it was first mentioned in the TextMate mailing list:
Revision 1624 now has a defaults for the drawer font size. At the time of writing, this is only available as an (intel) test build: Go to Preferences → Software Update and hold down option (⌥) when clicking Check Now.

See release notes for instructions.
First, I didn't know that you could get releases even more current than "Cutting Edge."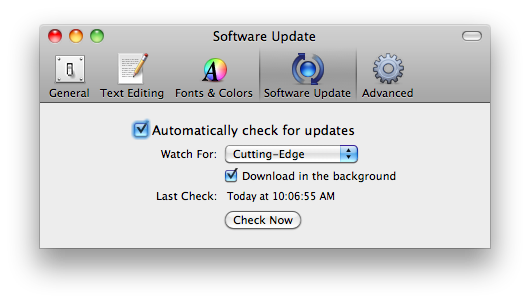 The latest build number (as of this morning) is 1625.
Second, and more important, I didn't take note until today of the ability to change the project drawer font size.
One of the first things I did when setting up my new Macbook Air was install TextMate and set its font to 16-point Bitstream Vera Sans Mono.1 There was, unfortunately, no preference setting for the font used in the project drawer. Thanks to Allan's tip, I just ran
defaults write com.macromates.textmate OakProjectDrawerFontSize -int 14

at the Terminal and now I have a project drawer I can actually read.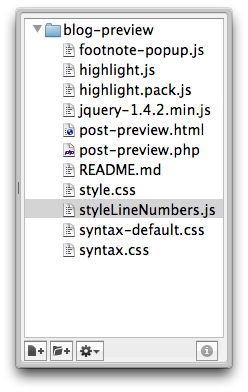 ---
I use 14-point Vera Sans Mono on my iMac, but the higher pixel density of the Air forced me to use a larger font. ↩