February 3, 2012 at 7:16 PM by Dr. Drang
With the war in Iraq officially over, from now on I'll be graphing US and coalition military deaths in Afghanistan only. The source of my figures remains icasualties.org, which continues to present the Iraq casualty history as well as the ongoing casualties in Afghanistan.
Before we let it go, though, I think it's worth reflecting on these totals for Iraq:
US military deaths: 4484
Coalition military deaths: 4802
Weapons of mass destruction: 0
Connections with September 11 terrorists: 0
Threats posed to US and her allies: 0
As for Afghanistan, a war that was easy to justify in 2001 but not today, January had an uptick in military deaths.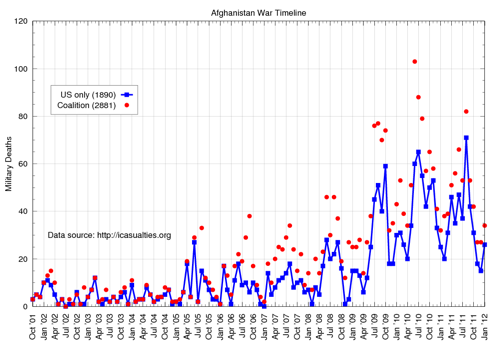 With luck, we won't see the big increases that have occurred every spring for the last three years.