May 21, 2008 at 3:42 PM by Dr. Drang
I've been using Library Elf to keep track of my family's library loans for a couple of years now, and it's been one of those things that integrate so well with your life that you forget what it was when you didn't have it. Recently I've learned that the people behind Library Elf are not only clever for coming up with a useful tool, they're also dedicated to keeping their users happy.
First, some background: Library Elf is a web/email/rss service that polls your local library's web site to keep track of the books (and CDs and movies) you've checked out and those you've put on hold. You can keep track by logging on to your account at libraryelf.com, by having emails sent to you, or by subscribing to an RSS feed. Library Elf presents the information in a very nice way, with a calendar showing upcoming due dates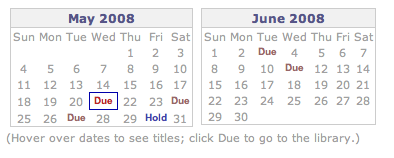 and a set of tables showing your borrowings and holds in various categories (click for full size).
The best thing about the Elf for families is that you can keep track of several cards on one Elf account. These can be
cards for one person issued by several libraries,
cards for several people issued by one library, or
cards for several people issued by several libraries.
This is especially useful for families. The status of Mom's, Dad's, and the kids' items are all listed in one spot and everything that's due soon can be rounded up to return on the next trip.
You can choose from among several notification schedules—weekly, daily, x days before an item is due, etc. From our one account, my wife and I get an email notice every day; we always know what's coming up due and can consolidate our returns, making fewer trips.
So that's why the Elf works so well for us. As I said, it quickly became a normal part of our routine, unnoticed until our local library revamped its web presence last month. The new URLs for the library's holdings screwed up the Elf's queries. I wrote an email to support@libraryelf.com (which was a guess, there's no support address listed on the site), letting them know of the problem. Within a few days they had adjusted to the new system and we were back in business.
Late last week I discovered that holds ready for pickup were being placed in the Holds Not Ready Yet category. Another email went out to the Elf and the fix was delivered today. Great response!
Library Elf is free, supported by ads from Google and Amazon. If your library is on their supported list, you should look into setting up an account.