May 29, 2008 at 10:51 AM by Dr. Drang
You've probably heard that the 10.5.3 update to Leopard allows you to sync your Address Book contacts with your GMail (or Google Apps) contacts. This is officially supported only if you have an iPhone or iPod Touch, but can apparently be done with a bit of plist editing even if you don't own one.
I'm sure most people did their first sync with no trouble, but I made the mistake of looking at Address Book's help page on the topic and didn't read carefully. Step 5 of the "Synchronizing with Google Contacts" instructions is
Click the Sync menu in the menu bar and choose Sync Now.
My eyes went up to the Address Book menu bar and saw no menu named Sync and no menu item named Sync Now. Maybe Sync is a submenu? No. Maybe I read the instructions wrong? No. Maybe I didn't read the next paragraph? Yes.
To add the Sync menu to the menu bar, open iSync, choose iSync > Preferences, and then select "Show status in menu bar."
Oh, the Sync menu isn't really named Sync, and it isn't part of Address Book. It's the Ouroboros-like iSync status menu over at the right side of the menu bar. The one I chose to keep hidden long ago because it's practically useless.
In fact, I never did use the Sync Now command. I decided to just put my iPhone in the Dock and see what happened; it's been my impression that iSync kind of runs in the background when my iPhone syncs. Success! Google syncing went ahead and I had to resolve a few minor conflicts.
Oddly enough, after my first iPhone/Google sync, the iSync menu appeared (which is how I got the screenshot above). I had to open iSync and uncheck the status menu preference to get it back to the way I like.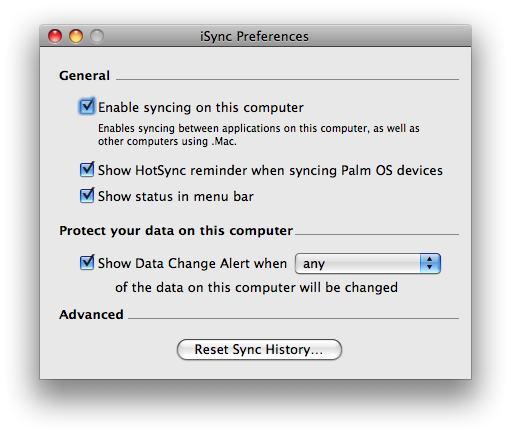 Update
Today (5/30) tried using the Sync Now command instead of just connecting my iPhone. I had cleaned up my Address Book and decided to delete all of my Google Contacts and start with a fresh sync. Because I was at home, and my iPhone is synced to my work computer, I couldn't put the phone in its cradle. So I used Leopard's screen sharing to access my work machine from my iBook, activated the iSync status menu, and selected Sync Now. Nothing. The arrowed circle spun a bit, but my list of contacts at Google stayed empty. Maybe Sync Now only works with .Mac?
Further update: Goodbye, Google syncing
After just having almost all my contacts deleted from Address Book and my iPhone during a "sync" with Google Contacts, I've turned off syncing with Google and don't expect to turn it back on again. There was no warning from iSync, I just opened Address Book and found only 6 or 7 entries instead of the 700 or so that should have been there. I'd be really pissed if restoring from my backup weren't so easy.