March 9, 2010 at 12:21 PM by Dr. Drang
It's not the content, of course, it's the formatting. Have you tried to read his RSS feed on an iPhone?
I started reading Roger's latest blog entry this morning and ran into the same problem I always do when reading him on my iPhone.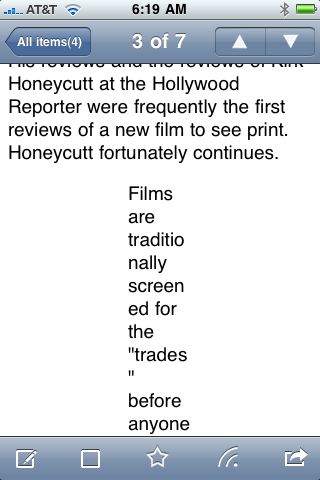 The screenshot above is from the MobileRSS feed reader, but I get basically the same horrible formatting when reading it through NetNewsWire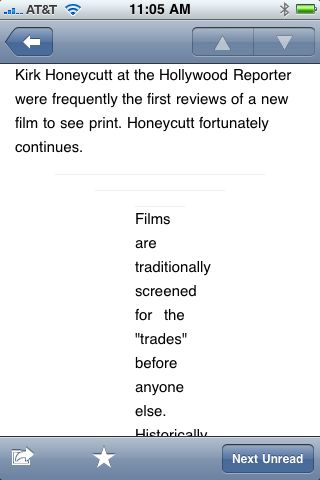 and through the Google Reader mobile page.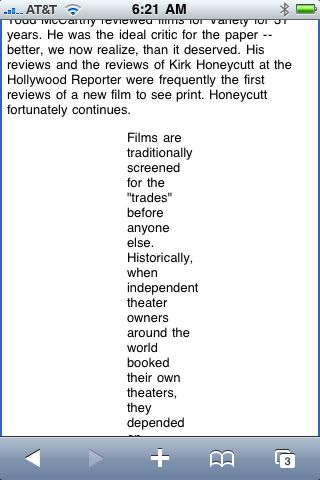 Everything past the first couple of paragraphs gets squeezed down to pass through a narrow chute.
Grabbing the feed via
curl http://blogs.suntimes.com/ebert/atom.xml > ebert.rss

and isolating the area where the formatting goes crazy, we get
<p> Todd McCarthy reviewed films for Variety for 31 years.
He was the ideal critic for the paper -- better, we now
realize, than it deserved. His reviews and the reviews of
Kirk Honeycutt at the Hollywood Reporter were frequently the
first reviews of a new film to see print. Honeycutt
fortunately continues. <br /> </p>]]>

<![CDATA[<blockquote><blockquote><blockquote>Films are
traditionally screened for the "trades" before anyone else.
Historically, when independent theater owners around the
world booked their own theaters, they depended on Variety's
advance reviews to plan their bookings. These days theaters
are booked by accountants in Hollywood, often before a film
has been completed. Now that it's "product," it doesn't
matter so much if it's any good or not.

and the problem is clear: it's the three consecutive <blockquote> tags that lead off the skinny part. Why are they there? The answer comes from looking not at the feed, but at the site itself.
Here's the main page of Roger's1 blog,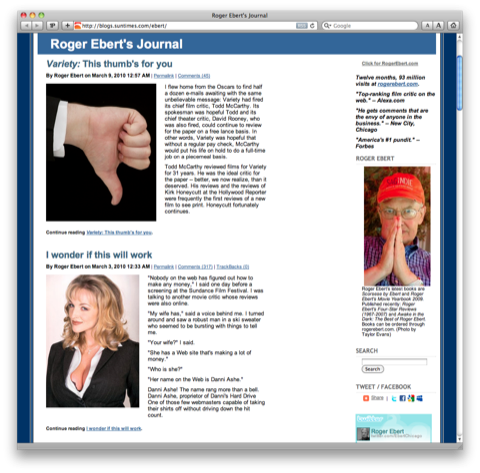 and here's the page for the latest entry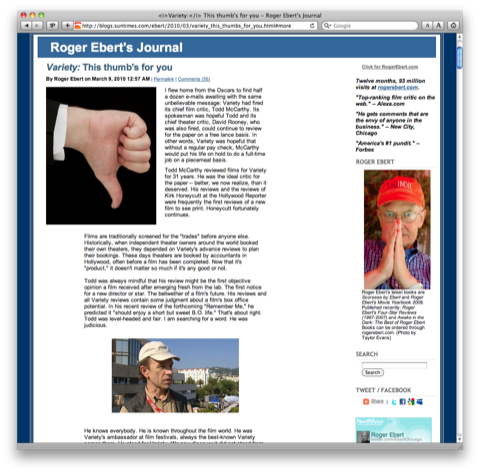 Each entry on main page has an image and a paragraph or two of text. You'll note that the length of the text matches the height of the image almost exactly, a feat that probably comes easily to a guy who's been writing newspaper copy for five decades, but which seems amazing to me.
The triple <blockquote> comes right after those lead paragraphs and is what gives the subsequent text its left indentation. And turns that text into a thin trickle running down the center of my iPhone.
(The indentation also appears when I read his feed on my computer, of course, but it's not as annoying on a full-sized screen.)
I don't know whether it's Roger himself that's putting in those <blockquote>s or whether it's some blogging program he's using, but whatever the source, it's the old problem of using HTML for formatting instead of semantics. I wish one of Roger's web-savvy friends—Andy Ihnatko, say—would step in and give him a little CSS assistance.
---
I call him Roger instead of Mr. Ebert not just because his persona in print and on TV makes everyone feel like his friend. And not just because we share an alma mater and happy memories of Champaign-Urbana. No, there's a deeper bond.

Back in the late 80s, my wife and I were driving down through the center of Illinois on I-57. We pulled into a rest stop and noticed a BMW with the license plate ROSEBUD (or maybe ROSEBD) in the parking lot. As I went into the men's room, I passed familiar-looking portly guy with big glasses coming out the door. It wasn't until I got back to my car that I realized I'd just had a brush with greatness.

It's the intimate relationship that comes from nearly sharing a rest room that puts Roger and me on a first name basis. ↩