July 11, 2010 at 10:22 PM by Dr. Drang
Last night, my wife and I did the LATE Ride, a 25-mile post-midnight bike ride through Chicago. It's our second year of doing it, and it's been a lot of fun both times.
The LATE (Long After Twilight Ends) Ride is a fundraiser for the Friends of the Parks, a "park advocacy organization, dedicated to preserving, protecting, and improving Chicago's parks and forest preserves for all citizens." Nine to ten thousand bikers gather at Buckingham Fountain in Grant Park and ride a circuit through several neighborhoods that eventually leads them south down the lakefront back to the starting point.
Columbus Drive, where the race starts and stops, is blocked off, but the other streets we ride on aren't, which is certainly a hassle for drivers unlucky enough to be trying to use those streets as we go by. Even though we start in waves of about 2,000 riders and tend to spread out as the ride progresses, it's still a huge clot of bicycles taking up the roadway. Most people we pass are friendly and encouraging, but there are exceptions. This year, we heard a taxi driver loudly and unintelligibly venting his anger at one of the course marshals. "Cabbies," said the marshal as the taxi drove off down a side street, "you gotta love 'em."
The marshals spread out along the course do a great job, directing us where to turn, controlling those bikers who want to run every red light, and helping those with injuries or equipment problems.
We saw two falls this year and came up on ambulances dealing with two other accidents of some sort. The one in Greektown looked particularly nasty; we rode past a small puddle of blood on the median. Frankly, it's amazing to me that there aren't more accidents. We ride pretty close to one another, and there always seems to be a pack of young men riding much faster and weaving in and out of the rest of us. Not surprisingly, these jerks typically don't have the ride's number bibs pinned to their shirts—they didn't pay the entrance fee and are sponging off the FotP's labor to get a fun ride through the city.
There are refreshment and potty break areas set up in a park about halfway through the route and at the fountain where the race ends. I have to say I agree with this tweet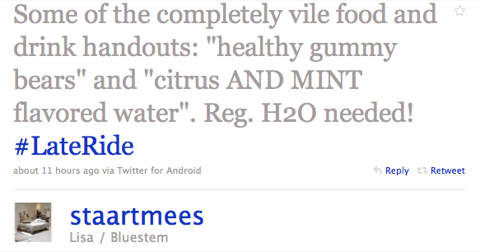 The Metromint water was vile. Neither my wife nor I finished our bottles, and we heard lots of grumbling about it around us. In general, this year's refreshments were limited in variety and crappy. I refuse to believe that anyone actually likes Myoplex, Lifeway Kefir, Fruit2Day, or Silk beverages; people drink them and pretend they're good because they think saying so makes them sound like athletes. Even the normally decent Clif Bar snack was one of their subpar products.
Last year's big food sponsor was McDonald's. I've reached the point where I can barely stand to eat most McDonald's food and avoid it whenever possible, but I have to say their breakfast was really good—much better than the bag handed out at the end of the ride this year. And, not surprisingly, McDonald's handled the food distribution much more efficiently.
Of course the point of the LATE Ride is not the food, it's the beautiful ride through Chicago. I didn't take photos along the way—that seemed like an invitation to an accident—but I did get a few nice shots at the end, both of the skyline
and of the coming sunrise.
I do have one last food-related note. My wife and I decided to eat breakfast at the Omega restaurant in Downers Grove on our way back home. We noticed an SUV with bikes on a rack in the parking lot and figured they must have come from the LATE Ride, too. In fact, not only was everyone in the dining room a LATE Rider, our waitress told us that she'd been serving LATE Riders since starting her shift at 3:30 am.
The Omega is not famous for heart-healthy food. I ordered the Omega scrambler with eggs over easy and an English muffin.
Under the eggs are hash browns, bacon, sausage, and onions. Even though I ate only half, I'm pretty sure it replaced whatever calories I'd burned during the ride.