January 12, 2011 at 7:43 PM by Dr. Drang
With the new year comes new attempts to get and stay organized. I've been using Circa/Rollabind systems for a few years now, and I've always lusted after Levenger's leather notebooks, but couldn't justify the $80+ price tag. Even Rollabind's leather notebooks are more expensive than I felt comfortable with.
But today I was in Staples buying some other office supplies, and lo and behold: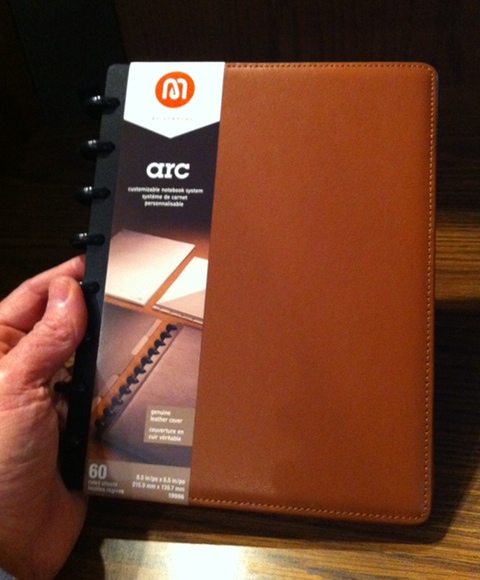 It's a Staples-branded junior-sized leather Rollabind notebook at a list price of just $10. Its letter-sized cousin, which I didn't buy, is just $15. These are more expensive than the vinyl-covered versions that came out in 2009, but not by much. The vinyl ones were always vaguely dissatisfying because they had a poufy padding under the vinyl that just didn't feel right. And the vinyl itself, I learned, was easily cut by any moderately sharp object you put in your bag with it. The new leather covers have a more substantial feel and should be more durable.
My Twitter followers may recall this tweet from a few days ago:
For Circa/Rollabind users: Rollabind is doing free shipping in January. Nice for small orders.
That was occasioned by the purchase of some Rollabind discs so I could make some cheap archival notebooks. You see, I keep track of my daily work in a notebook, starting each day on a new page.1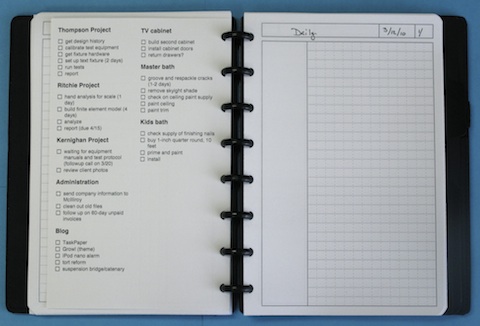 After a month or two, I pull out the old pages and put them in an archive notebook made with big Rollabind discs and cheap plastic covers. I write the start date on the cover in Sharpie when I make a new archive book and write the end date below it when the book gets too full to add any more pages. The archive books go on a shelf—I don't need to refer to them often, but when I do they're invaluable.
You may be put off by the quantity of discs you have to buy when you order from Rollabind. Although I tweeted about "small orders," a pack of 50 is the fewest you can get. But they're much cheaper than the discs from Levenger and are a good buy if you don't have to pay for shipping.
One last bit of frugality. I don't buy preprinted Circa/Rollabind paper, I print my own planner sheets and punch the little mushroom-shaped holes myself. Yes, I had to buy a special punch, but I've more than made up for its cost in the savings on paper. Plus, my planner sheets are laid out exactly as I want them and are good for both sketching and writing.
---
The photo also shows a 5×7 index card with a to-do list from TaskPaper. I'm still hanging in there with TaskPaper on both my Mac and iPhone, but Hog Bay Software's homegrown syncing system is starting to wear on me. I hope Jesse Grosjean gets Dropbox syncing working soon. ↩